Who Is Responsible For Overgrown Trees In An HOA?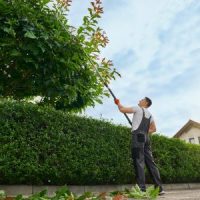 Trees and foliage are one of the major methods by which a homeowner can make their land feel unique and special. However, Florida homeowners' associations (HOAs) often try to regulate the ways (and directions) in which trees can grow. If roots or branches from one homeowner's land encroach onto another's, it can be difficult to determine whose responsibility it is to remove them, and who might be liable if they cause damage.
State Law Says No Cause Of Action …
Florida recognizes two types of valid law: statutory and common. Statutory laws are the laws passed by the Florida legislature, and signed into law by the state's governor. Common law, by comparison, derives from English law and court precedent. Both are considered equally valid in U.S. states unless a statute explicitly overwrites a common-law provision, which is rare. It is common law that governs the regulation of trees and other plant growth over property lines.
Florida's Courts of Appeals have detailed the "undoubted right" of a property owner to trim back branches and roots that extend onto their property from a next door neighbor's land. As a result, the courts are disinclined to recognize any kind of cause of action that is related to negligence or nuisance, because if someone becomes upset that a tree has grown onto their property, they have the legal right to remedy the problem. If your next-door neighbor has a tree whose branches are falling onto your property, you are permitted, under state law, to hire gardeners at your own expense to remedy the problem.
… But The Board Can Enforce CC&Rs
While state law is fairly absolute that no legal cause of action exists for a tree encroaching on one's property, it is still true that the board of a homeowners' association can enforce the conditions, covenants & restrictions (CC&Rs) against violations. It may not be possible to file suit against your next-door neighbor if tree roots are breaking up your driveway, but your HOA board may have a rule against broken concrete, and Florida law gives fairly broad powers to HOAs to enforce existing covenants.
That said, it is important to keep in mind that there is a fine line between removing branches that have come onto your property and causing criminal damage. Living trees are considered property of the homeowner on whose land they reside (in most cases), and causing damage to them beyond what is necessary to clear your property may, in extreme cases, end with criminal charges. Consulting an experienced attorney is always in your best interests, regardless of the avenue you choose to pursue.
Call A Tampa HOA Attorney
Florida courts have given individuals the right to remedy encroachment by trees onto their property – but if they go too far, an HOA board also has the right to step in. If you have questions about a similar situation, Tampa HOA attorney Alicia Seward and the Seward Law Office may be able to assist. Contact our office today to schedule a consultation.
Source:
casetext.com/case/richmond-v-gen-engg-enterprises-co