Can An HOA Regulate Fences On An Owner's Property?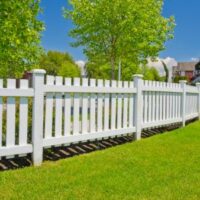 When someone buys a house that is located in a homeowners' association, they must be advised of the association's covenants, conditions, and restrictions (collectively referred to as the CC&Rs) in order for the contract to be appropriately binding. The CC&Rs are the rules by which the HOA's board of directors governs day-to-day life, and they can touch on anything from signs in one's yard to the color of one's house. Fencing is a common concern that can too often become a bone of contention between owners and the board, so if an owner decides to put up new fencing, it is incumbent on both the board and the owner themselves to be aware of the regulations surrounding that choice.
The Law Is Clear
Fences are commonly used in Florida for a variety of reasons, from protecting a garden to confining a pet, but since they can materially affect the way a neighborhood looks, an HOA board of directors will usually take steps to ensure they have control over the height, color, and style of a fence before permitting its construction. The CC&Rs are the primary authority of the board, and while not every set will include regulations of this type, the majority of them will. Florida law states that any regulation contained in the CC&Rs will take precedence over any other authority, so most HOA boards will ensure their authority is spelled out there.
It is worth noting that if the CC&Rs offer options for whatever improvement you may be trying to make to your property – for example, stating that fences must be a certain height, but can be comprised of one of four types of materials – no authority has the right to stop you from abiding by those options. Essentially, as long as the board has the authority to adopt CC&Rs, and those covenants are implemented properly, they will be the proverbial law of the land.
Dispute Resolution Before Lawsuits
If an owner does not believe that the board has the right to regulate fences, they may choose to pursue the matter, and while they have the right to do so, the covenants are again the last word in terms of what is permissible. They can be amended in rare cases, but this is a complex process that is generally not recommended for every slight dispute. Usually, an informal meeting or two will suffice to clear the air for the owner or owners having issues.
If an informal meeting is not sufficient, the next step is usually alternative dispute resolution, most often in the form of mediation. Florida law specifies that certain disputes between an association and a parcel owner must go through mediation before a lawsuit can be filed, including those which deal with covenant enforcement (as most fence-related disputes do). While mediation has its drawbacks, including the fact that formal court rules do not apply during the process, it can also be a good forum for resolving this type of dispute. Most of the time, these issues are straightforward, and can be worked out with the right legal assistance.
Contact A Tampa HOA Attorney
A homeowners' association has the right to impose limits on the parcel owners, including on fences, no matter how necessary they may be. If there is a dispute between an HOA board and an owner, contacting the Tampa HOA & condo association attorneys at the Seward Law Office can be a good first step to ensure that it is handled appropriately and fairly. Contact our offices today to schedule a consultation.
Resource:
flsenate.gov/Laws/Statutes/2012/720.3035