Short-Term Rentals In Florida Community Associations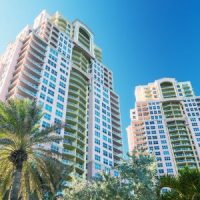 With the continuing popularity of Florida real estate, both for relocation and for vacations, more and more people are renting out their homes and condos for short-term use. However, this is not done in a vacuum; short-term rentals may be godsends to unit owners, but they can be nightmares to the neighbors and to the association board. If you have questions or concerns about renting out your home or unit, it is important to be aware that your board can and will place limitations on this type of agreement. Consulting an experienced attorney can help to clarify matters.
Status Up In The Air
Short-term housing rentals are a favorite for those who own their own property, because of the increased flexibility and the higher possible rent one can charge for short-term housing as opposed to long-term. However, they can be extremely disruptive to the association you live in, never mind potentially breaching laws (or the conditions, covenants and restrictions [CC&Rs] of your HOA or condo association). Short-term tenants have little to nothing invested in the property or the association, and because of this, they are thought to be more likely to breach the peace or cause damage to the property.
In the past decade or so, Florida has sought to regulate short-term rentals, placing restrictions on their legality. However, there are still areas for potential confusion, as well as outright loopholes – for example, many CC&Rs bar short-term rentals by requiring at least a 30-day minimum duration, but state law was amended in 2021 to limit the ability of HOAs to restrict rentals, which applies to all the association members if properly recorded. (The law is slightly different for condominiums; any amendment that places restrictions on rentals only applies to the owners who agreed to be bound by it or those who buy their units after the amendment's passage.)
What Are The Options?
A HOA or condo board has several options in terms of how to handle a breach of their CC&Rs if it is found that short-term rentals are not permitted. It may simply choose to work with municipal authorities – for example, Miami only allows short-term rentals in specific communities, and before someone lists their property on AirBNB or another provider, they must submit an affidavit to the city verifying they live in an appropriate area. Failure to do so may result in heavy fines – as much as $20,000 for a first offense.
Alternatively, a board dealing with unlawful short-term rentals may opt for "in-house" punishment, such as fines or loss of common area privileges. If this is unsuccessful in stopping the short-term rentals, the board has the right to file suit, seeking what is known as injunctive relief – a court order stopping someone from doing something (in this case, stopping a home- or condo owner from renting out their space on a short-term basis). In the end, the goal is simply to make the income from short-term rentals not worth the effort it may take to obtain it.
Call A Tampa Community Association Attorney
It may be tempting to try and rent out your Florida home or condo to make some quick cash, but there are significant reasons why doing so is at best difficult, at worst impossible. If you have questions or concerns about short-term Florida rentals, Tampa real estate attorney Alicia Seward and the Seward Law Office may be able to assist you in getting them answered. We are ready to try and assist you – call our office at 813-252-6789 to schedule a consultation.
Source:
flsenate.gov/Laws/Statutes/2021/0720.306