Frequently Asked Questions About Florida Emotional Support Animals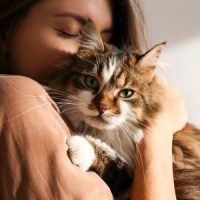 Many people have pets and love them, but some companion animals have important work to do for their owners. Service animals are trained to perform specific tasks for their disabled owners, such as alerting a diabetic to low blood sugar, or providing pressure grounding and comfort for a person with post-traumatic stress disorder (PTSD). Emotional support animals (ESAs), however, are a different class under Florida law, and too often, people confuse the two (or intentionally blur the boundaries between them). If you have an ESA, you may be confused on what your (and your animal's) rights are under the law.
What is the difference between an ESA and a service animal? My ESA helps me with my disability. The answer is that in Florida, ESAs are specifically for people who deal with psychological conditions or disabilities, and are often 'prescribed' by mental health professionals the way one would prescribe a medication. Service animals, by comparison, can be for any disability, and must be trained to perform specific tasks, rather than simply providing generalized companionship. (Also, under current federal law, only dogs may qualify as service animals.)
Is there a process I have to go through in order to get my animal registered as an ESA? Not a process, but a requirement – Florida requires that a person get what is known as an emotional support animal letter from their doctor (usually a psychiatrist) stating that they believe an ESA will help the recipient with a certain psychological condition. No other 'official' paperwork or identification is required, but it is crucial to keep this letter safe.
What happens if I just say my pet is an ESA? You can actually get in legal trouble in Florida. The state passed a law in 2020 criminalizing the use of "false or fraudulent proof of need" for a support animal, holding that anyone who misrepresents themselves and/or their need for an ESA is guilty of a second-degree misdemeanor. This includes both those who furnish false proof and those who simply try to brazen it out without any kind of letter or paper.
Can my condo board or HOA deny my right to have an ESA in my living space? Generally, the answer is no, unless the animal presents a safety hazard to the other members of the association or the staff. Florida passed a law in 2020 stating that landlords and community associations cannot discriminate against people with ESAs, but they can ask for paperwork verifying the animal's status, or the person's need for an ESA, if the need for it is not "readily apparent." The legislature sought to prevent people from falsely claiming their pets as ESAs, but also to recognize that ESAs fulfill legitimate needs for many disabled people.
Contact A Tampa Emotional Support Animal Attorney
It is unfortunately common for people to simply lie and claim their pets as emotional support animals – but if you have a genuine need, it is important to understand your rights and responsibilities both. Consulting a Tampa HOA & condo association attorney can help clarify your options. Attorney Alicia Seward and the Seward Law Office have handled these cases before, and will work hard to assist you with yours. Call our office today at 813-252-6789 to schedule a consultation.
Source:
leg.state.fl.us/statutes/index.cfm?App_mode=Display_Statute&URL=0400-0499/0413/Sections/0413.08.html