Florida HOAs And Emotional Support Animals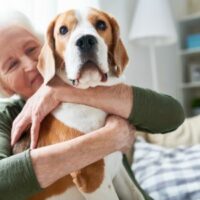 In Florida, the law on service animals – those individually trained to perform work or tasks for any individual with a disability – is quite clear, restricting the types of animals that may qualify and the types of work they must do. However, until recently, Florida's law on emotional support animals (ESAs) was much less settled. In 2020, it was modified to offer further clarification on what criteria an owner has to meet. A homeowners' association may not exclude service animals or emotional support animals with the proper qualifications and paperwork – but with Florida's new law, there may now be grounds for an HOA to sue a homeowner whose animal does not qualify, particularly if they refuse to rectify the issue.
Emotional Support Animals Serve Legitimate Purposes
Emotional support animals have gotten a bad reputation due to widespread fraud which masks regular pets as ESAs – but emotional support animals do serve a legitimate purpose, particularly to those with certain psychiatric conditions or mental disabilities. They are not service dogs by the definition in the Americans With Disabilities Act (ADA); rather, they occupy their own unique qualification. Sometimes, they are confused with psychiatric service dogs, which assist people with specifically mental illness-related needs, but psychiatric service dogs receive training to perform tasks; ESAs simply comfort via their presence.
Generally, HOAs must accept a request from a tenant to live with an appropriately qualified ESA, even if the conditions, covenants & restrictions (CC&Rs) of the association prohibit pets. ESAs and service animals, after all, are not pets. The only reasons that the law permits for refusal are health and safety related; if the animal would pose a danger to other tenants and that danger cannot be alleviated, a refusal is permitted. However, too many HOAs are ill informed about the law surrounding ESAs and may refuse a request from a tenant when they have no real legal standing to do so.
Dos And Don'ts
Much of Florida's law is based on the federal Fair Housing Act provisions on emotional support animals. 'Housing providers' may not discriminate against someone with a legitimate ESA by denying them housing on that basis, and they may not charge a fee for the ESA. This is true even if the building normally refuses pets. The association is permitted to request documentation that "reasonably supports" the fact of the person's disability, but they are not allowed to ask for anything more. Disability is highly personal and the law does not require a disabled person to provide every private detail of their condition to their homeowners' association.
It is crucial that HOAs not overstep their bounds when dealing with ESA requests. While "reasonable" accommodations will differ from association to association, the fact remains that a refusal must also be reasonable. If an HOA declines to accommodate a tenant who is disabled and has the right paperwork for their animal, they may find themselves on the receiving end of a lawsuit, either under Florida or under the U.S. Fair Housing Act.
Contact A Tampa Homeowners Association Attorney
A homeowners' association has wide latitude to regulate most aspects of life in the association, but state and federal law will obviously come before the CC&Rs. If you have questions about your HOA and emotional support animals, calling a Tampa HOA & condo association attorney can help to get them answered. Attorney Alicia Seward and the Seward Law Office are ready to try and help you with your case. Contact us today at 813-252-6789 to schedule a consultation.
Resource:
leg.state.fl.us/statutes/index.cfm?App_mode=Display_Statute&URL=0400-0499/0413/Sections/0413.08.html