Different Types of Deeds In Florida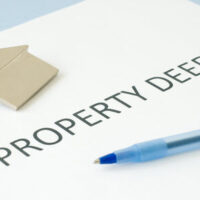 When a person or a couple wants to purchase a home in Florida, the way the property is legally transferred is through an instrument called a deed. There are several different types of deeds, but if you are not informed about the differences between them, you may wind up agreeing to more than you have bargained for. Consulting an experienced attorney on the subject can help to make sure that everything is clear before you commit to signing anything.
General Warranty Deeds
General warranty deeds are the most common type used in Florida, and they convey title to the property in question in fee simple (that is, with no strings attached and no one else claiming a right of reclamation), but also certain 'covenants of title' that implicitly are included as well. There are five covenants of title that are considered to be part of every general warranty deed even if they are not included in writing:
The covenant of seisin, which swears that the seller actually owns the property and is the only owner and possessor;
The covenant to convey, which swears that the seller has the right to 'convey' the property;
The covenant against encumbrances, which promises that there are no 'invisible' obstacles to the conveyance of the property;
The covenant of quiet enjoyment, which promises that the buyer's "use, possession, and enjoyment" of the property will not be disturbed by any kind of title defect; and
The covenant of general warranty, where the seller swears that they will protect the buyer from any harm caused by defects or others' claim to the property.
It is worth noting that in rare cases, special warranty deeds exist that do not contain the fifth covenant. This means that if a previous owner prior to the seller knew of a defect caused by a previous owner, they have no obligation to try and correct it.
Fee Simple Deeds vs Quit Claim Deeds
Another type of deed that is used commonly, where applicable, is referred to as a fee simple deed. This is a very simple deed that often winds up being less than one page, simply because it conveys title and nothing else. If a piece of property is conveyed in fee simple, it means that it is conveyed without any kind of restriction. However, unlike in a general warranty deed, a fee simple deed does not convey any kind of covenants of title, which means that if the deed turns out to be invalid or encumbered by someone else's cloud on the title, the seller will offer no protection against anything of the kind. Effectively, a fee simple deed means the buyer is on their own.
Quit claim deeds are another type of deed seen commonly in real estate transactions, but technically, they do not qualify as an actual deed. A quit claim deed is executed by someone who has or who might have had a claim over the property, intended to quiet title (erase any defects with the title). Essentially, the deed states that the seller is not specifically saying they have an ownership interest, but if they do, they convey it to you, the potential buyer – but they do not guarantee that ownership to be unencumbered. People who receive conveyances by quitclaim deed are seen as bona fide purchasers, meaning that the conveyance will generally be honored.
Contact A Tampa Deed Preparation Attorney
Real estate purchases are often highly complex endeavors, and in order to ensure that your rights are protected during the process, it is a good idea to consult a Tampa deed preparation attorney, so that you know what you are signing. The Seward Law Office has experience with these matters, and is ready to try and assist you with your case. Contact our offices today via our website, or via telephone at 813-252-6789, to schedule a consultation.
Resource:
theledger.com/news/20190417/understanding-covenants-of-real-estate-sale