Condo Association Faces Huge Fine After Cutting Down Oak Without Permission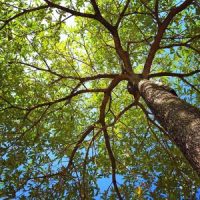 In general, a condominium association has the responsibility for maintaining the common elements, which can include gardening and tree maintenance on association property. However, this does not give the association an undisputed free reign over maintenance decisions – in some situations, the county government can and will step in. Such was the story of one Astor condominium association, which is currently facing a hefty fine for jumping the proverbial gun on cutting down a tree.
Who Was Negligent?
The condo association hired a contractor to cut down a tree on their property, which was described as "dangerous," with its roots damaging the property's dock and seawall. The tree was removed – but soon after, Volusia County had caught wind of the removal, and sent the association a letter warning that a permit was required to cut down trees of that size. The association blamed the tree service, whose owner had allegedly stated that a permit was not required.
As of this writing, the association is working with Volusia County to plant replacement trees, though if they plant in insufficient numbers, the fine still must be paid. The condo association would have to pay collectively, given that it voted in favor of cutting the tree down – but depending on how things play out, the board may find itself in future legal trouble if the owners in the association decide that the board has acted negligently.
Can The Board Be Liable?
While there is no indication that the Astor owners intend to act against their condo board, it is possible for one or more owners to file suit against a condominium board for alleged negligence or for breach of fiduciary duty. If earlier attempts at action have failed, such as filing complaints or addressing the issue at meetings, the board may collectively be sued for alleged negligence. Florida's business judgment rule protects the individual board members – that is, no member may be individually sued unless for certain particular offenses – but the board itself may be a target.
It is not uncommon for lawsuits against condo associations or boards to happen over making repairs. In many situations, the choice to make repairs (or to not make them) can affect individual owners, both in terms of enjoyment of their units, and in terms of any potential special assessments that may be required from them to pay for the repairs. While in this situation, no unrest seems to have occurred, associations must always balance the mood of their owners against other issues when determining how to spend money.
Contact A Tampa Condominium Association Attorney
While the outcome of the Astor case remains to be seen, it may still be seen as a cautionary tale for community associations – to be sure of the requirements before making a decision, and to ensure that the unit owners in the association will (mostly) support the board's choices. If you have any questions or concerns about your condominium board, calling a Tampa condo association attorney from the Seward Law Office may help to get them managed. Contact our office today to schedule a consultation.
Source:
news-journalonline.com/story/news/local/volusia/2023/05/08/volusia-county-condo-group-faces-over-20000-fine-after-tree-cutting/69993630007/